1950
1952
1955
1956
1976
1990s
1992
1995
1996
Mid 2000s
1950
Community leaders held their first organization meeting at the Jenkins County Courthouse (July 1950)
1952
1955
1956
1976
1990s
1992
1995
1996
Mid 2000s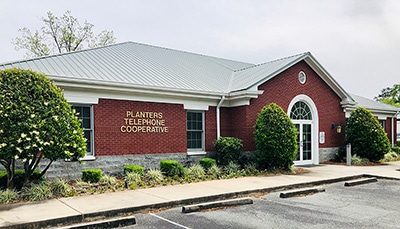 Planters Telephone Cooperative, Inc. has its headquarters in Newington, GA. The incorporators of Planters Telephone held their first meeting at Jenkins County Courthouse on July 6, 1950. In March, 1951, the directors completed the purchase of the Effingham Telephone Company, which included two exchanges at Guyton and Pineora. At the same time, negotiations were proceeding for a loan from the Rural Electrification Administration (REA) telephone program to build a new system to cover Screven County and to expand the project to Effingham County as soon as possible.
At the annual meeting of the members on August 14, 1952, it was announced that REA funds would soon be available to construct 100 miles of telephone line and to install necessary switching equipment. This expansion would eventually serve approximately 1,000 members. Most of the planned facilities were put into the service during 1955, and in July, 1956, a total of 699 subscribers were in service in Screven and Effingham Counties with almost 200 more waiting for service.
The 1960's saw a steady growth and improvement in the system as underground cable was installed and new switching equipment was put into service in the new central office buildings. In 1962 a new headquarters was built in Newington, and a warehouse was added several years later. At the end of 1966, 2,000 subscribers were being served throughout the area. A major step was taken to provide all one-party service, and the last exchange was upgraded in late 1976. At that time, Planters was serving 3,613 subscribers.
In 2004 the number of subscribers was over 10,000 being served. Digital switching is in place throughout the system to continue to provide the best possible service at the lowest possible rate. Helping make all the accomplishments possible through the years, Planters has been fortunate to have had loyal and dedicated employees who have given the extra efforts necessary to get telephone service, and they are acknowledged as a critical part of the successes of the cooperative.
Planters Telephone has joined with other telephone companies in the area, and they have brought cellular telephone service under the name of Alltel Cellular to Screven County and Effingham County as well as surrounding areas.
Our mission is to be the telecommunications provider of choice in Southeast Georgia. We will achieve our mission by continually:
Jeff Lariscy – President
Franklin Goldwire – Vice President
Edwin Lovett – Secretary/Treasurer
Brenda Scott – Director
Doug Dirst – Director
John C. Lacienski – Director
Ramona Kessler – Director